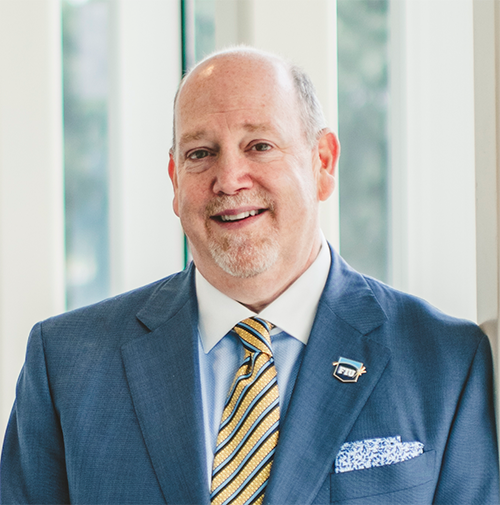 Howard Lipman
Senior Vice President, University Advancement | CEO, FIU Foundation, Inc.
---
Office: MARC 5th Floor
Phone: 305-348-6298
Email: howard.lipman@fiu.edu
Bio
Howard Lipman is Senior Vice President of University Advancement at Florida International University (FIU) and Chief Executive Officer of the FIU Foundation, Inc. At the helm of FIU's $750 million Next Horizon capital campaign, Lipman is successfully leading the Advancement Team toward accomplishing FIU's campaign goals and its NextHorizon2025 strategic initiatives in Student Success and Research Excellence. Reflecting the fabric of our community and of FIU, Lipman's Foundation/Advancement staff is among the most diverse in higher education fundraising. An able leader in a multicultural work environment, Lipman takes the time to form connections with his staff and with emerging campus leaders.
Lipman has led University Advancement and the FIU Foundation since 2010, elevated from his prior role as Vice President of University Advancement and Executive Director of the FIU Foundation from 2002 to 2006. Alumni work has been a key focus throughout Lipman's career. At FIU, he was the chief architect of its modern alumni program, bringing in top professional talent to build out the program, expanding staff, and broadening its functions through a planned standalone Alumni Center, Conference Center, and Hotel. Lipman also developed the giving program around Athletics, as it began forming its first Panther football team in 2000. As Foundation CEO, Lipman manages the 501(c)(3), which is responsible for investment of endowment funds, philanthropic revenue growth, ethical stewardship of gifts, and the operation of a 44-member Board of Directors. This work advances the university and strengthens our community.
Lipman also has a significant background in medical school fundraising. He secured gifts to establish FIU's medical school in 2006, raised funds for the Ear Institute and a Transplant Research chair at the University of Miami's Miller School of Medicine, and served on a team that brought in the largest gift in the state of Ohio – a $105 million investment to name Heritage College of Osteopathic Medicine at Ohio University. Under his leadership as Vice President for University Advancement and President and CEO of The Ohio University Foundation, from 2006 to 2010, the university raised more than $400 million.
Isis Artze-Vega, formerly FIU's Associate Director for Academic Support Services in the Center for the Advancement of Teaching and Lipman's mentee, has said that she "learned as much from his words as from his actions. I learned a great deal about leadership from the way he led. He treated his colleagues with a great deal of humility." Lipman served as a mentor to Artze-Vega as part of the yearlong Educational Leadership Enhancement Program, designed to foster leadership skills and career development among women and minority employees.
With more than 30 years of advancement and executive experience, Lipman has held positions in the non-profit sector as well, including at Oakwood Healthcare System Foundation and the Zoological Society of Florida. Former President and CEO of the American Red Cross of Greater Miami and the Keys, member of the Council for Advancement and Support of Education, and past President of the Association of Fundraising Professionals' Miami chapter, Lipman's legacy of leadership in South Florida and in his profession continues, as his vision for mission-driven philanthropy hastens the next horizon of excellence at FIU.
Lipman received a bachelor's degree in political science from East Carolina University in Greenville, North Carolina. He also completed studies in higher education administration and organizational leadership at Southern Illinois University and Harvard University's Kennedy School of Government.
Lipman and his wife, Sara, have three children: Jake, Evan, and Claire.