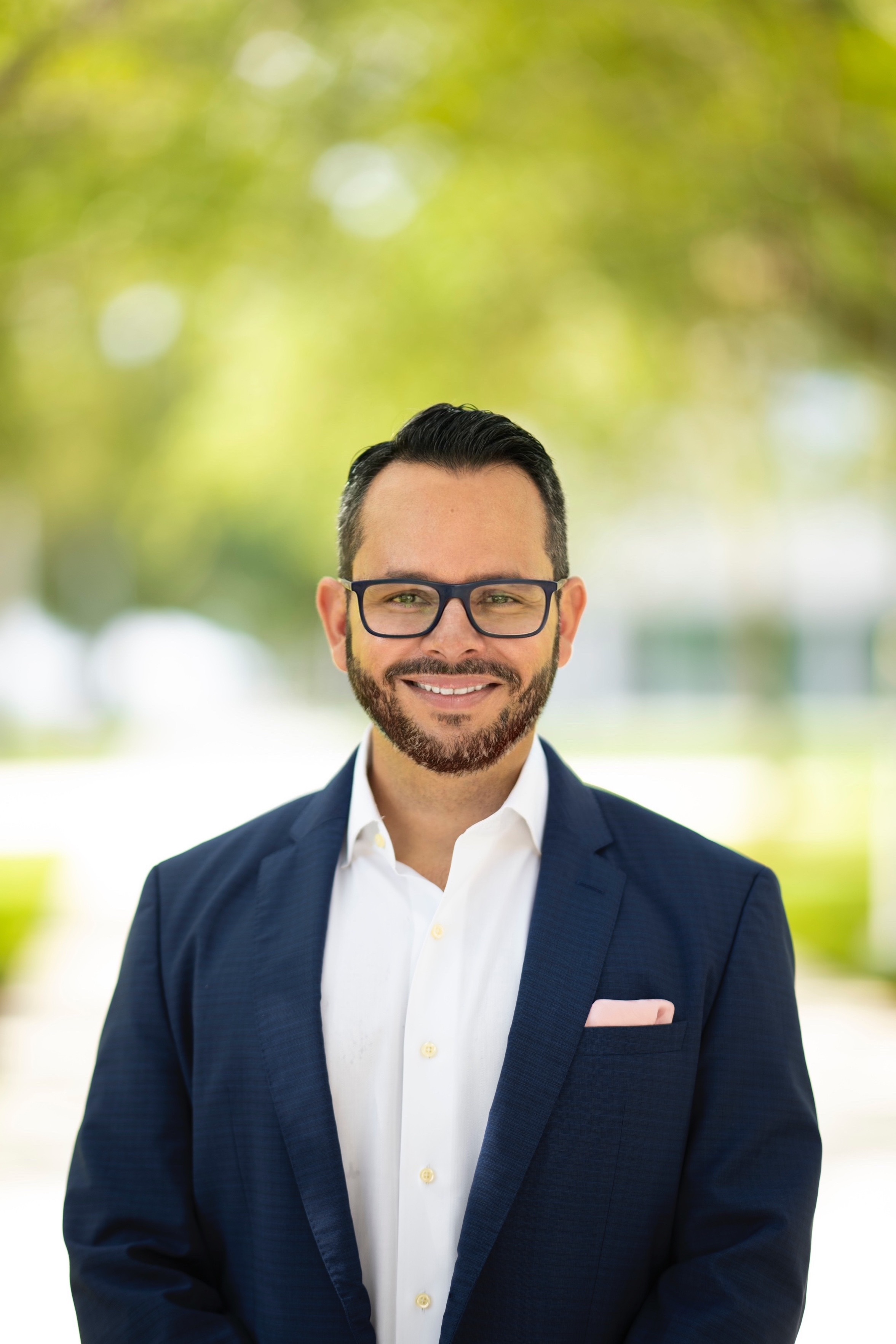 George Corton '03, MBA '14
Vice President of Development and Innovation Philanthropy
---
Office: MARC 528
Phone: 305-348-1923
Email: cortong@fiu.edu
Bio
A fundraising professional with over 17 years of experience, George Corton has progressed rapidly through the ranks of the profession. As the Vice President of Development and Innovation Philanthropy at Florida International University (FIU) in Miami, Florida, he provides oversight for 36 development professionals with another six indirect reports. He has led his team to record-breaking annual fundraising totals (over $105 million currently in FY'21) as part of an ambitious $750 million capital campaign. 
Corton is at home at FIU, a minority-majority public research university with 56,000 students, and among the top universities in granting degrees to Hispanic students. The son of Cuban immigrants, he was born in New Jersey and raised in Central Florida, before coming to Miami in 1998. He graduated from FIU in 2003 and returned to complete an MBA in 2014. He is the first in his family to attend college, a designation shared by more than 25% of FIU students.  
Building on this diverse background and on the forefront of inclusive philanthropy, Corton cofounded the FIU Foundation Office of Inclusive Philanthropy which brings together development professionals, community and industry partners from diverse backgrounds to inform, implement and evaluate philanthropic strategy and programming that promotes systemic change. This includes scholarships and wrap-around support services for students, increased faculty diversity, strong and inclusive advisory board governance, social equity research, cultural competence trainings, and improved health and education outcomes.
Prior to coming to FIU, Corton served as the Senior Director of Development at the University of Miami (UM) School of Business Administration.  During his tenure at UM, he worked to establish the School's Board of Overseers as well as four other program boards.  He strengthened the Business School's international recognition and reputation by hosting events and engaging alumni and parents across Europe and Latin America.  Corton was also a key member of the core team that brought a full onsite MBA program to the island of Puerto Rico. 
Before the University of Miami, Corton commenced his fundraising career at his alma mater, FIU, where he served as the Council of 100 Liaison, Director of Corporate Relations, and Director of Development for the College of Law. 
In addition to his commitment to higher education, he serves as the secretary of the oldest Latino nonprofit in New York- Casita Maria- Center for Arts & Education.  Corton has been honored by the American Cancer Society for his commitment to the annual Making Strides Against Breast Cancer Walk.  He is a proud member of the Council for Latino Workplace Equity and was chosen as a "Top Latino Leader" at their 2nd Annual National Latino Leadership Conference in 2016.  Corton is a member of the Hispanic Scholarship Fund's Advisory Council in Miami and serves on the Pamela Silva Conde Scholarship Board, a scholarship he helped establish with Conde, a six-time Emmy award winning journalist and Univision co-anchor.